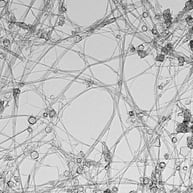 OTTAWA, May 27th, 2015 /CNW Telbec/ – Tekna Holdings Canada Inc. has entered into an exclusive agreement with the National Research Council of Canada (NRC) to allow the firm to manufacture Boron Nitride NanoTubes (BNNTs) in commercial quantities using a process developed by NRC on a Tekna machine. The 20-year agreement allows Tekna to manufacture and sell BNNT material. It also allows Tekna to sub-licence, to 3rd parties, the right to manufacture BNNTs.
BNNTs are an extraordinary material with unique properties that will revolutionize engineered materials in a wide range of applications including in the defence and security, aerospace, biomedical and automotive sectors.
Luc Dionne, CEO of Tekna indicated that
"Tekna is proud to have worked through this ground-breaking agreement with NRC. Thanks to our partnership with NRC, our Tekna facility based in Sherbrooke, Quebec will become a world leader in the manufacture of this advanced material."
About BNNTs: Although BNNTs were discovered in 1995, production of large qualities has been limited, perhaps amounting to less than 100 grams commercial production in 2013. Using technology developed by Tekna, NRC researchers have developed a method to manufacture BNNTs in quantities and at a price that will allow large scale production. This agreement will help to produce large quantities of this breakthrough material.
Boron nitride nanotubes have a structure very similar to the better known carbon nanotubes. They share the extraordinary mechanical properties of carbon nanotubes, but have the added advantages of optical and infrared transparency, greater thermal and chemical stability, neutron shielding, electrical insulation, and even the ability to generate electrical current when subjected to mechanical stress (piezoelectricity).
About TEKNA: Tekna Plasma Systems specializes in the development, design and construction of integrated plasma systems for nanoparticle synthesis, coating applications, and powder plasma treatments such as spheroidization and purification for laboratory research and industrial-scale processes. Tekna Advanced Materials offers a variety of nanopowders and micro-sized spherical powders. BNNTs represent the brand new family of materials commercialized by Tekna Advanced Materials!
Related link