ARENDAL, NO / SHERBROOKE, QC. 14 December 2021 – Tekna (OSE: TEKNA), the world-leading provider of advanced materials to industry, has been awarded the Gilles-Demers Award for commitment to innovation in the aerospace industry in Quebec.
In the presence of Mr. Pierre Fitzgibbon, Minister of Economy and Innovation for Quebec, and Pascale St. Onge, Minister of Sport for Canada and Minister responsible for the Economic Development Agency of Canada for the Regions of Québec, Tekna won the prize in the Commitment to Innovation category, and was a finalist for the "Grand Prize" that is awarded to the winning company that excels the most in all three of the competition's categories combined. The Gilles-Demers Awards, organized by AeroMontreal, aim to promote the development Quebec's aerospace cluster by recognizing small and medium-sized enterprises that have demonstrated leadership in key areas such as wealth creation and outreach, commitment to innovation and business development and internationalization.
"I'd like to thank the Gilles-Demers Awards for supporting innovation in our industry and for recognizing Tekna with this prize. I see it as an acknowledgement of the hard work the entire Tekna team continues to deliver to stay ahead of the game in terms of technological innovation and excellence, to drive growth and value creation. I feel fortunate and proud to be part of this world-leading team, which will keep delivering materials and products to meet the highest performance standards of the global aerospace industry," said Tekna CEO Luc Dionne.
Tekna produces high-quality powders dedicated to additive manufacturing, metal injection molding and hot isostatic pressing applications that feature high flowability, high density and high purity at controlled production costs. These properties are attained by applying the patented RF Plasma Technology that was developed and perfected by Tekna over the last 30 years. As the quality leader for metal powder, Tekna is committed to strengthening its position as the supplier of choice for additive manufacturing in the aerospace supply chain.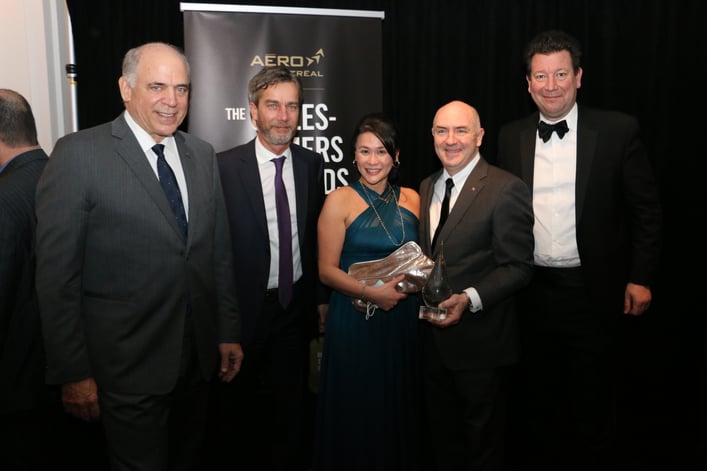 About Tekna
Tekna is a world-leading provider of advanced materials, headquartered in Sherbrooke, Canada. Tekna produces high-purity metal powders for applications such as 3D printing serving the aerospace, medical, automotive industries, as well as optimized induction plasma systems for industrial research and production. With its unique, IP-protected plasma technology, the company is well positioned in the growing market for advanced nanomaterials within the electronics and batteries industries. Building on 30 years of delivering excellence, Tekna is a global player recognized for its quality products and its commitment to its multinational base of over 200 blue-chip customers.

Contacts

Tekna / Investor Relations:

Arina van Oost:

+1 438 885 6330

Website:

LinkedIn