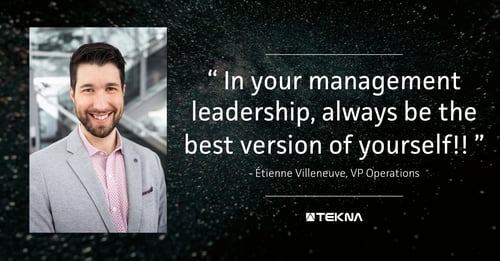 Etienne Villeneuve joined Tekna in December and we asked him about his experience so far, his plans and ambitions for the operations and what he does in his spare time.
How do you like your time at Tekna so far?
It has been a very exciting time since I've joined Tekna. The team at Tekna share and live human values that make a positive difference on a daily basis. The management team also share a continuous improvement culture that is really aligned with my vision of what the future in manufacturing looks like. We could say that these first months of integration in my role has been unusual, both due to Covid and Tekna becoming a publicly traded company. However, the team in place has been able to adapt and help me understand the business strategy of the company and the ongoing projects that support it.
How is it different to start in times of COVID?
The Covid pandemic brought a different perspective on how to integrate yourself within a new organization. TEAMS has become the way to meet with the team as I was mostly working from home. Meetings 'in person' are definitely better when you start and want to build relationships with your colleagues. However, as you all know, resilience and adaptation have been part of our daily challenges in the last months and we have found ways to make things happen even if it was not the 'traditional way' to do it.
Describe your team in 3 words?
Leadership, Competent, Dedicated
What prepared you for this role at Tekna?
I have 17 years of experience in several executive management positions, including Vice President Operations at Groupe Parima, Head of Operations and Technical Services at Neptune Wellness Solutions, Operations and Continuous Improvement Director at Conagra Foods. I have evolved in several Quality Regulated Businesses like Pharmaceutical and Technologies. I also currently serve as a member of the board of directors for Sherbrooke Innopole.
Anything you can tell us about your plans for Tekna's operations?
The first step for me has been to understand well the business strategy, the current organizational structure and what are the priorities that will help Tekna to deliver the business plan. I like to say that to be successful within your manufacturing organization, you need to have enough people sitting on the right chairs and have alignment and support to deliver their projects and objectives. This is exactly what I have started doing with the different departments under my umbrella and I think we are setting Tekna up for success within this exciting journey.
Any advice for new employees joining Tekna?
Take time to understand well your role and responsibilities and how your job creates value within Tekna in regards to the business strategy. It will grow your motivation on a daily basis and help you find ways to improve your results and make you and your team 'shine'.

And to connect you with likeminded spirits in the Tekna universe, what do you enjoy doing in your free time?
In terms of sport activities, I practice road bike cycling and running most of the time. I also like boating with my family and friends and travelling around the globe while not in COVID time 😊!